Australia is one of the biggest economies in the world. Due to the huge geographical area combined with a low population, it can absorb huge new population. Adding to that the on-going skilled manpower shortage in the skilled workforce has led the government to align its terms & policies in welcoming new skilled and business immigrants. The government of Australia encourages skilled workers to come and get settled in Australia.
The resource sector is growing rapidly and doesn't have enough skilled workforce to meet the demand of the industries. This presents ample opportunities for the potential skilled workers around the world to look towards Australia for immigration and find a suitable Job.
The new immigrants, in most categories have unlimited work rights and the permanent immigrants become eligible to apply for citizenship provided, if they meet the citizenship criteria in force at that time.
They enjoy the democracy, freedom of expression, financial security, equal rights, equal opportunities and relaxed lifestyle. Most importantly, they can be more relaxed knowing their family's overall future is more secured than in most countries around the world.
Australia is a promised land to millions of immigrants that offers a quality life with many other lifelong benefits. If you are wondering what permanent residency is all about, here is the list of the rights and benefits you will have once you gain Australian  permanent residence VISA.
RIGHT TO LIVE IN AUSTRALIA INDEFINITELY.
FREEDOM TO WORK.
FREEDOM TO TRAVEL.
FREEDOM TO PURSUE HIGHER EDUCATION.
ELIGIBILITY TO APPLY FOR AN AUSTRALIAN CITIZENSHIP.
AUSTRALIA-BORN CHILDREN.
PRIVILEGE TO SPONSOR DEPENDENTS.
HEALTHCARE & SOCIAL WELFARE BENEFITS.
INCREASED CREDIT RATING.
NO VISA REQUIREMENT TO VISIT NEWZEALAND.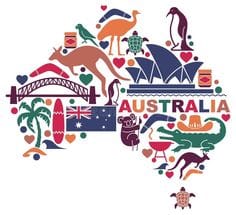 These are just a few of the bigger benefits you will have, once you get the status of Australian Permanent Resident. However, this status isn't easy to achieve and it could take a year to get it but with these major benefits in mind, many people are ready to give what it takes for achieving the final goal. Start nurturing your dream of making Australia your home.
Thousands of skilled workers dream of permanent residency in Australia, and there are various ways that you can achieve it. To immigrate to Australia, skilled migrants go through a point- based system where they should meet the minimum required score on the basis age, education, work experience, language proficiency, spouse factors, etc.
The General Skilled Migration (GSM) program
The General Skilled Migration program (GSM) is for skilled workers looking to permanently immigrate to Australia, to fill Australia's skilled workers' shortages. Visa Categories within the General Skilled Migration program are point-based and are either independent, State / Territory sponsored permanent visas.
GSM (General Skilled Migration) visa is issued to individuals with in-demand skills and their willingness to settle in Australia.